Due to DNA findings we need to correct the content below. We have confirmed that our direct line goes up to/through Barnabas Davis. The Barnabas Davis and Foulk Davis line are kin as well (proven through DNA). And we also know our line tightly intermarried with the Robert Davis/George Davis line mentioned here. Thus we are all still kin, but the below article needs to be updated to clarify what we've learned through DNA. See here for what DNA has proven out.
***********************************************************************
When we link our ancestors back to Robert Davis (1700-1770), one of the first pioneers of the Virginia frontier, it is fair to say there are questions due to lack of paperwork on each of Robert's children for which our ancestors are derived. Click here to learn our approach in determining how our Jonathan (Roane County TN Line) links to Robert. So, what can be learned about Robert Davis (1700-1770) and his father George who originally came to the early Colonies of America from Ireland?
Well, Davis is certainly one of the most common names in the world, being originally of English origin spreading to Scotland and Ireland as well. The task of researching such a common name would at first seem difficult if not impossible. However, the Davises for whom we are part, were Scotch-Irish Presbyterians (ARP) and, as such, followed the familiar trek of those people from Ireland to Pennsylvania, from Pennsylvania to the Augusta County, VA area, and from Virginia to the Waxhaws in North and South Carolina. Our direct line took this exact path with Davis kin from Ireland, to Pennsylvania, to Augusta County to Pittyslvania County VA but then broke and went into Tennessee.
The progenitor of this Davis line is believed to be George Davis who with his wife joined Bensalem Church in Bucks County, PA on November 4, 1722, having recently arrived from Ireland. Also joining on this day were William Pickens and wife and their son, Israel Pickens, with whom the Davises frequently intermarried. LDS Church records list a George Davis, son of Richard and Margaret Davis, christened July 13, 1684 in Dublin, Ireland. A George Davis was granted 400 acres on Buffalo River in Prince Edward County, VA on July 25, 1749, later Nelson County. Little else is known of George Davis but he probably died in Pennsylvania. His only known son was Robert Davis.
Robert Davis is believed to have been born about 1705 in Ireland. He immigrated with his parents to Bucks County, PA where he probably married. We know from later deeds that his wife was Mildred and she was perhaps a Crockett, a sister to Robert Crockett. In 1735, Robert Davis received a grant of 400 acres in Goochland County, VA, Augusta County being created in 1738. A Robert Davies (Davis is spelled "Davies" in Ireland and that naming convention carried over into Colonial American times for our line) was a member of the Augusta County Militia in 1742. In 1746, Robert Davis was granted 300 acres in Augusta County, VA on the west side of the Blue Ridge Mountains. Court minutes for August 20, 1746 show Robert Davis as overseer of the road from top North Mountain to Wm. King's. Tithables for this road included Andrew Pickens.
The will of Robert Crockett dated November 16, 1746 was proved February 19, 1747 in Augusta County, VA. It names wife Margaret; sons John, Archibald, Samuel, Alexander, Robert (under age) and James (under age); daughter Jean Crockett. Executors were wife Margaret and Robert Davis. Witnesses were Thomas Gillham, James McCorkle and Robert Bratton. Numerous records can be found in Augusta County records of Robert Davis's administration of this estate.
On August 13, 1747, William Beverly of Essex County, VA deeded to Robert Davies for 8 pounds+ 145 acres in Beverly Manor witnessed by Wm. Henderson, James Crawford and Archibald Hamilton. Robert Davis/Davies also witnessed three other deeds on the same day for land deeded from William Beverly to James Lynn, James Crawford and Archibald Hamilton. On March 21, 1753, Robert Davis sold to John Brown 300 acres in Augusta County adjoining James Cathey, Samuel Wallace and the Beverly Manor line. On March 22, 1753, Robert Davis sold to John Brown 145 acres in Beverly Manor. On May 19, 1753, Robert Davis petitioned the court as executor of Robert Crockett saying "he is about to leave this Colony and begs to be released". John Ramsey, who married Margaret Crockett, the widow, was summoned and replaced him.
Robert Davis is said to have had 22 children. In his own will in 1770 he acknowledged that he couldn't remember who they all were. It is recorded that William (b. 1730) was his oldest. But, that is is the oldest that is on record that he could remember. The fact that Robert, along with Nathaniel (born approx. 1723) and James (born approx. 1720), were all early Augusta County Virginia settlers, leads us to believe Nathaniel and James are two of Robert's earlier sons, as the age span fits perfectly and their properties were adjoining and early occupations in the Beverley Manor Land Grant of Old Augusta
Robert Davis, it is said, went to the Waxhaw Settlements in N.C. and S.C. among the earliest pioneers, probably with the Rev. Alexander Craighead congregation who fled from the extreme frontier of Virginia in the Calf pasture area after the defeat of Gen. Braddock. Robert Davis died in 1770 and his will was probated in Mecklenburg Co. N.C. The original will and settlement papers are in the Archives of N.C. at Raleigh.
In an account of the Davis family that has been prepared by Mr. Robert Lemuel Davis of North Belmont, N.C. (Gaston County) states that Robert Davis was born in North Ireland, where he was married about 1727 to Anne Pickens. He also states that Robert was father to 22 children, the oldest being William Davis (of those he remembered) who was born in 1730 in County Tyrone Ireland, than he came first to Pennsylvania then Augusta county Virginia and later on to the Waxhaw settlements in 1741. He does not name all of the 22 children, claiming that many are unknown now.
Kegley's Virginia Frontier Records show that Robert Davis first received 400 acres in 1735 in South Garden, among the mountains of the Branches of Hardware River in Virginia. At that time all this territory was in Goochland County, and is located in what became the extreme southern end of Augusta county. The same year he received an additional 400 acres in the same location. This section is actually in the Branches of James and Roanoke Rivers.
Kegley, shows that in 1746 Robert Davis received a grant of 300 acres on the West side of the Blue Ridge. On Nov. 22, 1746, one James Davis, received a grant of 626 acres part of a larger grant of 8,100 acres on Catawaba river.
Kegley shows that in 1748 the Clerk's fee book in Augusta County, Va. shows that Robert Davis, along with many others, is "Not found". This, says Kegley, is an indication of how restless the pioneers were on the frontier, moving from place to place and the county officials unable, or unwilling to keep up with them.
Pioneers who were with Robert Davis in Beverely Manor and then followed him the NC/SC Waxhaw Settlement include family names: John Ramsey, John Hutchinson, Robert McClennachan, Robert Bratton, Andrew Pickens, the Caldwells, Crocketts, and others. Interestingly, the Cunningham family are part of this group as well who were with Robert Davis in Beverely Manor but instead of going to N.C. went to Roane County, TN. Our 2nd great grand father John R. Davis (1822-1870) married Lucinda Cunningham. Her Gr-Gr-Grandfather's brother married John R Davis's Gr-Gr-Grandfather's sister (my husband's 7th Great Aunt) all the way back in in the early 1700s (approx. 1720) in Ireland. They came to America and settled in Beverely Manor with Robert Davis before moving on to Tennessee. John R. (my husband's 2nd Gr Grandfather) and Lucinda were married in Roane County, Tennessee. it is indeed hard to say these families are not kin when we have records all the way back to Ireland that show families such as the Cunninghams and Davis co-married from the earlier 1700s and on into the 1800s, migrating together from Ireland, to Pennsylvania, to the Beverely Manor Tract in old Augusta, through Virginia and on to Roane, Tennessee and then on to Bourbon County, Kansas. MIGRATION OF KIN/MARRIED INTO FAMILY tell ALOT about family over time. Pickens is another name that travels with the Davis clan very early on.
As time went on, Robert moved from Beverely Manor Tract in Old Augusta to North Carolina.
NORTH CAROLINA list of applications for land grants, show that on October 1, 1751, the following applied for land:
Robert Davis – for 600 acres.
William Davis – for 300 acres.
Robert Caldwell – for 600 acres.
Andrew Pickens – for 800 acres. (See: N.C. Colonial Records. Vol. 4, p. 1250-51.)
North Carolina had a law granting land only to people who came into the colony to live on the land. Applications, however were received in advance of the actual removal. We have noted that in 1753 Robert Davis made the statement in Augusta county that he planned to leave the colony. It was about this date or the next year at the latest that he arrive in the Waxhaw Section, along with others from the same area in Augusta County. The land when granted was in the then constituted county of ANSON which included most of western N.C. Early Anson county records show the following:
ANSON COUNTY, MILITIA COMPANY: Year 1755. Had 61 officers and men.
Among those listed were:
Captain – Andrew Pickens
Lieutenant – Robert Ramsey
Ensign – John Crockett
Sgt. – Thomas Wright,
Sgt. – William Beard,
Sgt. – William King.
Corporal – Alexander Crockett.
Archibald Crockett, Andrew Nutt, George Davis, John Davis, John Pickens, John Linn, Joseph Pickens, Moses Davis, Robert Davis, Robert Crockett, Robert McClelland, Robert Caldwell, Robert Montgomery, William Davis, William Pickens and others.
April 4, 1756, Robert Ramsey deed to JOHN DAVIS and MOSES DAVIS, all of Anson, for 35 pounds Virginia Currency, 380 acres on Waxhaw Creek, beginning at red oak, including Beard's corner. Witnesses: John Crockett, Repentance Townsend, Archibald Crockett.
NOTE: 17 years later, John and Moses Davis of Abbeville Co. S.C sold the same tract of land to Robert Davis of Mecklenburg Co. N.C. Repentance Townsend was living in Abbeville So. S.C. in 1790 census.
There is so much amazing history about the Waxhaw Settlement. The Waxhaw Settlement in the Carolinas was settled by the Scotch-Irish from Pennsylvania, Maryland and Virginia. This area today lies in Union County, NC and part of Lancaster County, SC. Over the years it has been in Bladen, Anson and Mecklenburg Counties in North Carolina. The settlement was named for the Waxhaw Indians who inhabited this area prior to a smallpox epidemic which practically obliterated their tribe. Some of the early settlers of this area were the families of Pickens, Davis, Crockett, Ramsey, Kennedy, Caldwell, Douglass, McCain, Montgomery, Walkup, Nutt, King, Martin, Jackson, Crawford, Calhoun, Taylor, Moore and Walker, many of whom came from Augusta County, VA.
Some history about the Waxhaw Settlement and our Anne Davis who who was married to General Andrew Pickens is included below thanks to Bethel Presbyterian Church, Walhalla S.C. This is the location where future President Andrew Jackson was born.
The Waxhaw Settlement was a prosperous and noteworthy region, producing national leaders (most notably the 7th U.S. President Andrew Jackson) and considerable wealth from its cotton fields. But by the 1830s, the once fertile soils of the "Garden of the Waxhaws" had been stripped of nutrients causing many families to move further west. It was considered the place of enlightenment for early America with some of the nation's top thinkers collecting here over time.
Having been born in 1739, Bucks County, Pennsylvania, General Andrew Pickens was a mere lad when his family, Captain Andrew and Anne Davis Pickens, arrived in 1751 at the Waxhaw Settle- ment in Lancaster County, South Carolina. The Waxhaw Presbyterian Church was established a few years later in 1754.
In 1756, the family of Catherine Montgomery Calhoun, which included Mary, James, Ezekiel, William, Patrick and their families, settled in Granville County, South Carolina, an area that would eventually be known as the Abbeville District. The Indians claimed to own this land and began to cause trouble. The Calhoun families, along with the other settlers, grew fearful. They planned to leave and go to Augusta, Georgia, for safety. They started their journey on February 1, 1760, and had only been traveling a few hours when some of their wagons got stuck near the creek. At this point, about one hundred Cherokee Indians on horseback launched a surprise attack. Catherine, her oldest son, James, and his wife, along with several of her grandchildren were among twenty-three killed. Fourteen others were captured.
The survivors fled to the Waxhaws and to the Low Country. It was at the Waxhaw settlement that [Gen.] Andrew Pickens met Rebecca Calhoun, daughter of Dr. Ezekiel Calhoun. In 1762 the Calhoun families returned to the Long Canes in Granville County with many persons added to their number, including [Gen.] Andrew Pickens. Soon afterwards they established Upper Long Cane Presbyterian Church in 1763, which continues in existence today. Then on March 19, 1765, Andrew Pickens married Rebecca Calhoun, aunt of John C. Calhoun.
Settlement in Granville County, South Carolina, around the Long Canes, increased rapidly underwhat was known as the "Bounty Act" passed by the General Assembly of South Carolina on July 25, 1761, encouraging European Protestants to colonize South Carolina. Two townships were laid out, one at Long Cane called 'Boonesborough' and the other Belfast. Boonesborough Township was located in what is present-day Greenwood County. Surveyed in 1762 by Patrick Calhoun and named for Royal Governor Thomas Boone, this 20,500 acre township was laid out near the town of Ninety-Six as a buffer between white and Cherokee lands
Protestant families seized the chance to own land, including several of the families that would establish Bethel Church forty years later: Andrew Pickens, James Keown, father of Alexander Keown; Thomas Lesly, father of Thomas Lesly; James Loosk, father of Nathan and Henry Lusk; Alexander White Sr., father of Alexander White Jr.; Patrick White; and Andrew White.
According to George Howe's History of the Presbyterian Church in South Carolina Vol. I, after the war was over, families from the Long Canes began to move northwest into the Pendleton District, a tract of land forty miles square, ceded by the Cherokees in May 1777.

In 1782, General Pickens obtained 575 acres on the Seneca River, near where the Blue Ridge railroad crossed the stream. The first home of General Pickens was known by Hopewell. It was at Hopewell that he negotiated a peace treaty with the Cherokee Indians during several days of meetings. The Treaty of Hopewell was any of three treaties signed at the Hopewell Plantation. The treaties were signed between the Confederation Congress of the United States of America and the Cherokee (1785), Choctaw and Chickasaw peoples (1786).
A number of the men who had lived with Pickens in Granville County (Abbeville District) and served with him during the Revolutionary War followed him to the Golden Corner of South Carolina. As they had done in the Long Canes Settlement in Abbeville, these men and their families established small churches in the newly opened territory of the Pendleton District: Carmel (1787) near Liberty; Broadway (1788) later renamed and removed to Belton; Good Hope (1789) located in Iva; Roberts (1789) a few miles outside of Anderson; and Hopewell-Keowee (1789) in Pendleton. While residing at Hopewell, General Pickens and General Robert Anderson were the leaders in organizing the Hopewell Presbyterian Church in 1789.
Gen. Andrew Pickens and Rebecca eventually moved to Tamassee where, along with the Rev. Andrew Brown, they established Bethel Presbyterian Church in 1805. Once again, men that had served with Pickens during the war followed him with their families: James Anderson, Nathan and Henry Lusk, Thomas Lesly, John Hughes, John and Josiah Houston, and others.
About 1816, several families composing the original congregation emigrated to Greene County, Alabama, with Rev. Brown: Arthur McDow, John Hughes, Abner Steele, Oliver Woods, and an unspecified White family. Alexander Keown removed to the Abbeville District before 1810.Thomas Lesly moved in 1819, going over the mountain to McMinn County, Tennessee. John andJosiah Houston moved to Georgia, the former before 1810 and the latter prior to 1830. There were also significant losses at that time due to deaths: James Anderson (1813), Henry Lusk(1813), Robert White (1813), Rebecca Calhoun Pickens (1814), and General Andrew Pickens(1817).
History of President Andrew Jackson at the Waxhaw Settlement thanks to Museum Of The Waxhaws below.
In 1765, Andrew Jackson, Sr., the father of the future president, moved with his wife, Elizabeth (known as Betty), and their two young sons, Hugh and Robert, to the Waxhaw settlement. They were Scots-Irish, originally from County Antrim in Ireland. It is believed that Andrew Jackson, Sr., bought farmland and built a home at Twelve Mile Creek, near present-day Mineral Springs, NC. This farmstead no longer exists, but archaeological evidence suggests a home of modest means.
Andrew Jackson, Sr., died in late February 1767. Betty traveled south to the Old Waxhaw Presbyterian Church to bury her husband. On the return trip, she gave birth to Andrew Jackson, the future president of the United States. Although stories abound as to the events surrounding the birth, as of yet no definitive evidence has arisen to authenticate the exact location of Andrew Jackson's birth on March 15, 1767.
Betty Jackson sold the home in North Carolina and moved in with the family of her sister at the Crawford Plantation just across the border in South Carolina. Young Andrew remained here until after the death of his mother and brothers during the American Revolution. During the war, Andrew served as a messenger and was captured by the British. Following the war, he taught school briefly in the area, then moved to Salisbury, NC, to study law. At the age of 21, Andrew Jackson moved west to Tennessee and never returned to the Waxhaws region.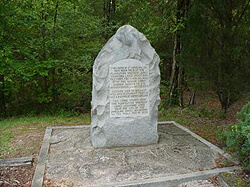 The debate over Andrew Jackson's exact birthplace is ongoing. The two most likely locations are Crawford Plantation, located in Lancaster County, South Carolina, and the George McCamie cabin, located in what is now Union County, North Carolina. Both sites are located only a few miles from each other and at the time of Jackson's birth the state line had yet to be drawn. Jackson himself claimed on many occasions to have been born in South Carolina, but it is important to remember that at the time he made these statements South Carolina was in a bitter dispute with the federal government.
It is possible that Jackson may have been trying to show an affinity for South Carolina to ease difficulties with the state. A strong oral tradition claims that Jackson was born in North Carolina. Chief among this is the testimony of Mrs. Sarah Lathen, whose mother was a midwife at Jackson's birth. She claims that the birth took place at the McCamie cabin in North Carolina.
As our Davis clan delves deeper into our history it is so exciting to see the miles we've traveled, the paths we've forged, the struggles we've prevailed over (wars, indian attacks, wilderness frontiers, ocean voyages to a new land, wagon trains to even further new lands, etc.), all in hopes of a better life for family.
Faith * Family * Frontier * Fidelity
The Davis Way for over 300 years!!